Would your child/teenager like to learn piano in an informal, encouraging atmosphere? Or perhaps you'd like to learn yourself, or rediscover old skills?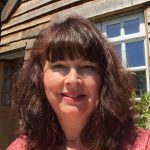 I'm Caroline Hogarth. I offer piano lessons at my home near Tamworth, and online. I also teach singing. The new exams in Singing For Musical Theatre are great!
If you or your child want to develop a solid foundation in good technique whilst studying a variety of musical styles – classical, jazz and pop/rock – to suit the preference and standard of the student, you've found the right place. Students are encouraged to enter MTB,  ABRSM or RockSchool exams as a marker of achievement, but without undue pressure.
I believe it is important that students learn "how to learn" in order to motivate themselves to play the repertoire they want to play. Lessons will include work on technique and theory of music, as well as developing listening skills.
I've had an enormous amount of pleasure over the years from playing piano, harpsichord, American organ and other keyboard instruments, and I love to pass on this sense of enjoyment to other people. So if you've a budding Matt Bellamy, Lang Lang, Adele or Katia Labeque in the family, why not contact me about lessons?
Music is good for you!
Did you know that studying music formally is really good for you?
It helps your brain to recognise patterns better – this can help in learning maths
It teaches skills of organisation and self-discipline
It uses lots of different muscles in the shoulders, arms and hands so it helps motor control
Playing music that you love makes you feel good so you are less stressed
Learning to play music with other people develops social skills including empathy, listening and assertiveness.
Why Not Start Now?
I'm in a pleasant village location in Warton within easy reach of Tamworth, Atherstone, Twycross, Polesworth, Grendon, Sheepy Magna and the surrounding villages. Your first lesson is free, an opportunity to find out if we "fit"!
During the current pandemic, you will be pleased to know that I am taking suitable hygiene and social distancing precautions.
I also offer online lessons using FaceTime, Zoom, Skype or Facebook Messenger. This is not only a good solution to any further lockdowns, it's great for those times when you don't want to spread a cold, or the car is in the garage…
Contact me for information on how to get started and whether I have a current vacancy. The after school period is most popular but I usually have spaces available for daytime students.