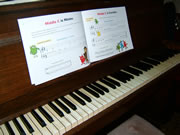 You can't expect to learn the piano simply by coming along to lessons. Playing music takes a lot of different skills and like anything else you try and learn, these skills will get better the more you make use of them.
I will always make sure that you have a mixture of exercises and pieces to work on between lessons. Depending on your level, you might have scales and broken chords or arpeggios, studies or technical exercises to get your hands strong and supple. You will also have some written work from time to time as it will help you to learn the theory of music.
Try to establish a routine for when you practise, so that you have enough time to spend and still fit in other activities that you enjoy.
Your practise time will benefit you more if you split it roughly into 3 parts:
1. Warm up with the technical exercises
2. Work on tricky or new parts of your pieces
3. Perform your pieces. This is the part where you could ask your parent/carer or a friend or sibling to listen to your playing – a good way to get used to playing to an audience.
How long you need to practise for depends on your level, and how quickly you want to make progress!
As a guide, early beginners should aim for around 10 minutes a day. Improvers should aim for 20 minutes to half an hour.
By the time you've reached about Grade 5 you need to be practising for half an hour most days to keep up your standard of playing, but if you want to progress further you'll need to do more. By this stage, if the piano is really the right instrument for you, I hope you will be spending around an hour a day playing. Some of this time should be practising for your next lesson, but some of it could be just for fun – older pieces you've learned,  new pieces you've bought and want to try out, maybe even playing with a friend who plays a different instrument.